The answer is either yes or no!!
My answer to your question is No

Good try @heckflosse, but answering NO, just puts the question again!
YES is the only answer that saves the processing parameters

If you feel like describing how you to make the dialog appear in the first place, maybe someone can take a look and see what is going on…

Hi @agriggio
Trying to save .arp from the Editor, makes the question popup!
Well, I answered your question: Any one knows the question?

I cannot reproduce unfortunately. Can you give some more details? E.g. ART version, OS, GTK+ version, Language, whether you are trying to overwrite an existing file, … anything else that might be relevant…
Thanks!
I know @heckflosse, just trying to be funny…


Hi again @agriggio
ART_1.4.1.AppImage on UbuntuStudio 20.04
English language trying to over write old file
ps
its no big deal, answering YES makes me save perfectly…

This is weird @agriggio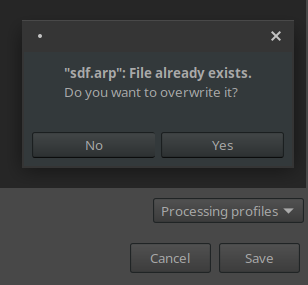 Same session, but shorter file name!
Seems like it only happens with longer .arp file names…