Here's a white circle on a partially-transparent background:
Now compare GIMP (left) and G'MIC (right) blurring the circle after removing the background:
Notice the halo, which results even when I don't import an image and merely create one from scratch in G'MIC. On the left is a GIMP-blended circle blending with itself in normal mode in GIMP and in alpha mode in G'MIC: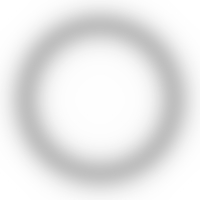 This is something that really puzzles me because all the values necessary to create the resultant image are there; all of the pixels which have a non-zero alpha have a colour here because the completely-transparent ones aren't affected at all. The issue with this sort of bug is that it makes using both blurring and alpha blending in GIMP a very difficult business - I just so happen to be using both in a new filter that I'm building. It means that for now I'll have to build my own commands which handle the values for the channels properly, but I am aware that other filters use these commands plenty of times while manipulating alpha channels.