Hello,
My usual workflow is to debayer when converting a set of Nikon Z6 .NEF files and that works well. However, this time I wanted to stack first without the initial debayer (assuming this would result in a better image). I did the initial conversion to FITS (debayer checkbox unchecked this time), images are looking good and then registration (global, with rotation, no drizzle). However after registration things start to look weird. I selected "Histogram" so the effect could be easily seen. Reference image looks good, same as before registration:
However, all subsequent images each have significantly different contrast and field illumination, as if there were some clouds (there were none), for example: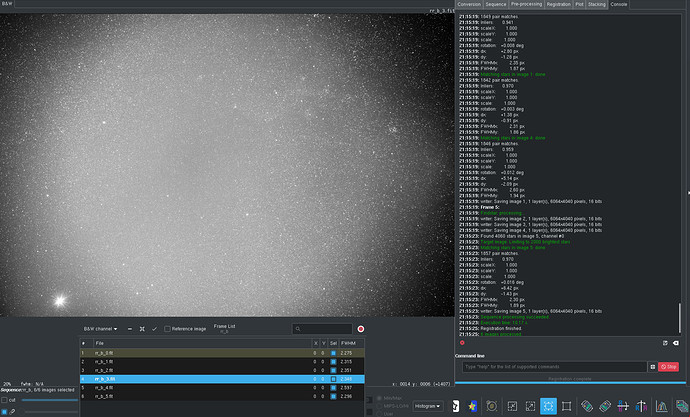 I tried disabling FITS compression and changing between 16 and 32-bit depth, but it didn't make any difference. There seems to be an issue when saving FITS again after registration (perhaps only related to Nikon Z6 raw files). I tried stacking regardless, but as expected I end up with weird artifacts and patterns in the final image. I use latest version of siril on linux, can't say if it happened with older versions as I didn't try this workflow before.
As for flats, I don't have them. I intent to use only central portion of the image where image is evenly illuminated and final cropped image does look good enough, but only if I first debayer the sequence.
Thanks,
Vedran