That thing looks super fancy! Great color.
Thanks - it's a weapon. I finally hammer down some sections that I am afraid to descend by foot ;o)
The color is called "twotone blue" and it looks even better when you stand in front of the sled.
What??? That is crazy! Be safe

Nice one.

How did you prop it up? I can't spot the usual badly cloned out stick.

I'm actually also on a Jeffys but a bit smaller and with 27.5. Good reason to take a picture I guess.
No magician shall ever give away the secrets of his trade ;o)
Pretty much like you said: I stuck a short twig under the chainstay. It had to be slanted a bit and it was all but stable, but it did the trick for the two or three minutes of the photo-shoot. From there on it was just a bit of cloning and healing in the GIMP.
For a 27.5 I'd hesitate between the Jeffsy and a Canyon Spectral; the latter is not available in 29, though.
Veering OT…how do you like the handling of the 29er? I find that it feels very different.
Better in every way. More stable, faster and more in control. Yes, you are 15 mm higher on a 29er and that has implications at low speed. But the higher rotating mass is great at higher speeds.
In the beginning we all had 26, then (finally) someone came up with 29ers and that was THE solution. For a reason I never really understood, 27.5 were introduced seven or 10 years after 29ers, but they were moribond from the beginning and today there is simply not a single discipline where 27.5 win races. 29ers are the right choice; companies like Canyon don't even offer 27.5 for frame sizes M or higher.
(Yes, I also do own a 27.5 and I know what I am talking about.)
Interesting…I'm an old roadie, and my 26 mountain bike (a GT that's pretty long in the tooth now) has a pretty similar feel to 700c road wheels once you account for the different tire profile. My son has a 29er; when I've ridden it my sense has been that it is more stable but less nimble. It seems to have a stronger desire to go straight. Of course, that could also be in the steering geometry of his particular bike…it's not like all my road bikes handle alike!
The geometry of MTBs has changed a lot recently. My 29er Jeffsy is long and low - 150 mm suspension front and rear and yet I am still lower than on my 27.5er XC bike with 100 mm front only. The wheelbase is 145 mm longer, too
What a surprise! I havent checked the forum for a while then a few days ago I came back and saw two discussions on two-wheelers (this one, and the other with motorbike photography) – obviously I'm also one of those passionate about two-wheels, with and without an engine.
Hey Stefan @beachbum what was the flash setup? did you use any modifier? I tried once to do some photos using a flash but the reflections were too strong in my case.
I'll share some pics of my bike; these are quite old, dated 2016, but since we're talking geometry I thought it was appropriate… the amazing thing of my Nicolai/Mojo Geometron is that I bought it back in 2015 but it still feels fresh and cutting edge in terms of geometry. All the other brands are only now catchinig up what was considered absurd a few years back (super slack head angle and long reach on a trail bike?).
(these photos were taken without flash, with my old olympus m43 and a 45mm 1.8; the flash photos I mentioned above are embarassing compared to those made by Stefan so I won't share anything made with flash until I get better at it!)
My Geometron has now a few more scratches and after the long covid-break I have finally started to use it again; to celebrate I've just bought some new tyres, new chainring and wider handlebars just because a friend of mine keeps busting my balls about how narrow my current ones are (750mm carbon bars, I'll try some cheap 780mm alu to try).
About 27.5 vs 29: I haven't really read much pinkbike lately but I didn't know that 29" are now ruling across disciplines; xc ok, I knew it already but I still thought that enduro and DH were ruled by 27.5"! You 100% sure about this, Stefan? I have seen lots of hybrid 29/27.5, and YT has both their enduro/trail bikes in both 27.5 and 29. Anyway I'm not sure I agree on your quite radical position (that 27.5 are useless and moribond from the beginning). My Geometron combines the best of the two aspects; slightly smaller wheels and long stable geometry that works exceptionally well not just going downhill but also in climbing. I have tried a similar size geometron with 29" wheels and it felt too big and slightly unwieldy for me. My previous bike was a 29" short-travel bike so yes I also have enjoyed the 29" wheels. What I'm saying is just that I didnt realize 27.5 were dying… looking around on my trails it doesn't look like that. (I'm talking tech trails obviously).
(I hope we're not too much OT in here…)
Just to get back to photos and avoid the OT, here's another pic of another Geometron of my friend Phil when he came to visit me in Finale Ligure: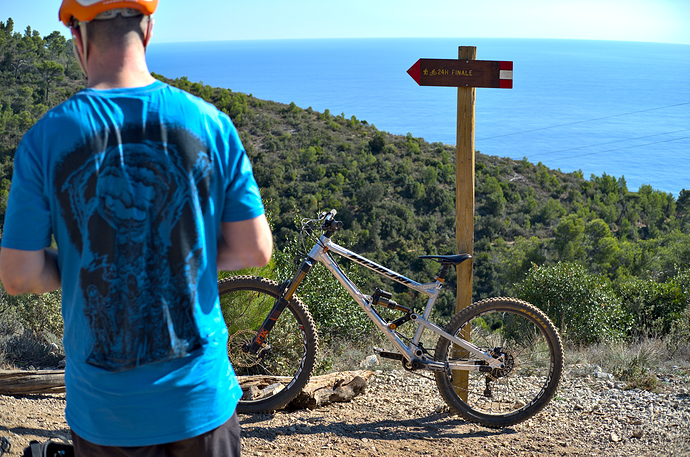 And this is a rare image of myself looking like I know what to do on the bike (I don't usually look this confident). In other words, it's more a testament to the photo-skills of Sandy, the other friend who took this photo.
I used a Metz AF 48 N into a 65cm Aurora Firefly. The flash and softbox are hip-high left, just outside the picture-frame and I triggered the flash with cheap Yongnuo trasmitters from Amazon.
The important part was not to overdo the light/flash power. I wanted the blue to shine without highlighting all black parts or the environment. In the end I powered the small flash down to 1/16 and dropped my T-Shirt above the upper part of the lightformer. That helped a lot in controlling the light, but i got about 50 mosquito bites within three minutes and ran around like a Gorilla, scratching my belly and chest for a few days.
Off topic: check this: https://www.youtube.com/watch?v=J9lqgesBfzM
27.5 has quit the stage except for a few downhill mullets (I am too much of a weakling for downhill)
PS: The Geometron is a great looking bike. The slack front and big gap between wheel and frame look awesome. It must be perfect on fast trails or enduro sections